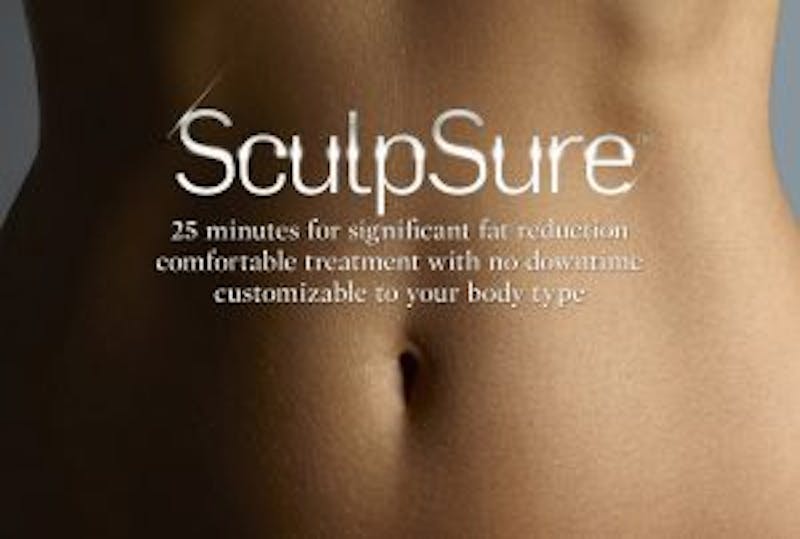 Have you thought about nonsurgical fat elimination, but are not sure if it can actually deliver your desired results? If you are frustrated with pockets of ugly, stubborn fatty tissue, yet are not ready to 'go under the knife' with liposuction, then noninvasive fat reduction may be exactly what you are looking for. SculpSure, from the Boston Center for Facial Rejuvenation, can provide a 25% decrease in fatty tissue, in a single treatment. With many benefits over liposuction, SculpSure is quickly becoming one of today's most popular, nonsurgical fat elimination procedures.
Top Five Benefits of SculpSure:
Superior Safety:
SculpSure is the first Food and Drug Administration-approved laser device for noninvasive fat elimination. The technique uses a concentrated laser for safe results that can be tailored to each individual. SculpSure has few side-effects, such as mild tenderness or redness, and holds little chance for more severe complications. No incisions mean no risk for infection and no chance of scarring.
Fast and Easy:
An in-office SculpSure session takes only 25 minutes to perform. Only one treatment is required for exceptional results, with no follow-up sessions necessary. Patients are in and out of the office in less than an hour, making SculpSure the perfect 'lunchtime procedure'. Additionally, up to four areas can be treated at one time, meaning each SculpSure appointment is efficient and effective.
Permanent Results:
The results from SculpSure will last for years to come. Once fat cells are gone, they do not return. A single session will yield up to 25% reduction in unsightly fatty tissue. While results are not immediate, in six to eight weeks, patients will see the dramatic benefits of treatment. Unlike similar procedures, SculpSure also works to rebuild collagen and elastin, helping to tighten the skin and eliminate sagging.
Benefits All Areas:
SculpSure provides excellent results on the upper arms, stomach, flanks, and thighs. Since the laser treatment does not 'vacuum' up fatty tissue between applicator paddles, SculpSure can be used on almost any area of the body, not only areas with 'pinchable' fat. The noninvasive treatment works well on all body shapes, sizes, and skin types.
No Downtime:
There is no recovery period or downtime required after a nonsurgical SculpSure procedure. Patients can return to their routine schedules, including work and exercise, as soon as their procedure is over. With SculpSure, a sleeker, smoother physique can be achieved without any disruptions in lifestyle.
Boston-area patients have the benefit of having one of the nation's top SculpSure providers close to home. Dr. Leonard Miller, founder of the Boston Center for Facial Rejuvenation founder, has more than two decades of experience in surgical and noninvasive procedures. Over the years he has developed his own, innovative noninvasive techniques promising unmatched results. Dr. Miller is one of the first plastic surgeons to bring SculpSure to patients on the east coast.
To find out more about Sculpture from Boston Center for Facial Rejuvenation, or to schedule a consultation appointment with Dr. Miller or Dr. Doherty, contact the office at (617) 735-8735. Inquiries can also be made by filling out our convenient, online Contact Us form.